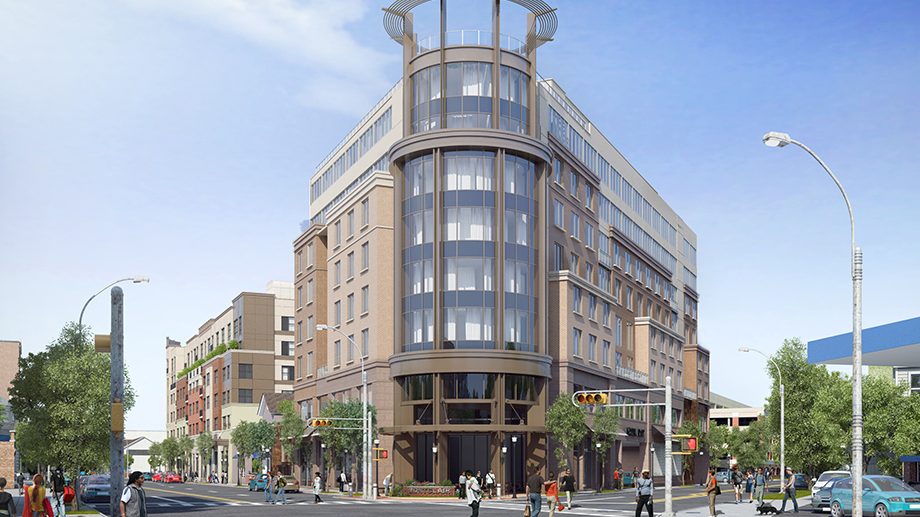 Thursday, August 15, 2019, marked the official soft opening of the MC Hotel in Montclair, New Jersey, and it went off without a hitch. Members of the community attended to witness the grand opening and eagerly awaited early that morning as the 9 am start time quickly approached. 
Various speakers such as Todd Cilano, COO of Aparium Hotel Group, James E. Hanson, President and CEO of Hampshire Properties, Robert D. Jackson, the Mayor of Montclair, and Oscar Fontana Roos, the General Manager of The MC Hotel, all shared heartfelt words about the process they'd undergone and goals they hope to reach in relation to the hotel. 
They expressed a communal desire to celebrate the local culture and to create a touchstone by which the hotel can be remembered. A lasting positive impact is the main goal of The MC Hotel, and because of this goal it will evolve into a crucial part of the community. It was after they all spoke that the ribbon was cut, champagne was poured, and the hotel's first day truly started. 
The hotel lobby itself is spacious and filled with places to relax and enjoy the modern, clean atmosphere of The MC Hotel. Not only is there a fully stocked bar, but the onsite restaurant, Allegory, is now open for breakfast, lunch, and dinner. Walk in any time to enjoy the fresh culinary stylings of the restaurant's staff and experience the art-filled halls of the lounge. 
 The upper floors of the hotel have much more to offer than just bedrooms, and on a personal tour #HipNJ got to see everything there was. In the hotel there's over 8000ft2 of meeting space on-site. Balconies allow natural lighting to flood into the various rooms, such as the on-site gym, conference rooms, and exhibition ballroom. The rooms are designed to create optimal space for attendance in greater numbers and arrangements. 
The hotel rooms feature either queen or king sized bed options. Local brands are featured in each room in order to run with their theme of involving the community. The rooms have a spacious, modern, and comfortable feeling about them. The bathrooms feature barn doors, making it easy to navigate the room without the problem of doors opening up left and right. 
Digital valet parking is also available, which can come in handy when getting where you need to be on time. When giving your car to the service, they give you a digital receipt by text message, and using the link attached you can order your car to be ready in any amount of time. This allows for someone to be in their room getting ready, and upon reaching the lobby, have their car waiting for them. 
Now that the grand opening is over, anyone is welcome to come in and enjoy The MC Hotel and all it has to offer. 
Learn more about The MC Hotel on their website: https://themchotel.com

Or follow them on instagram: @themchotel