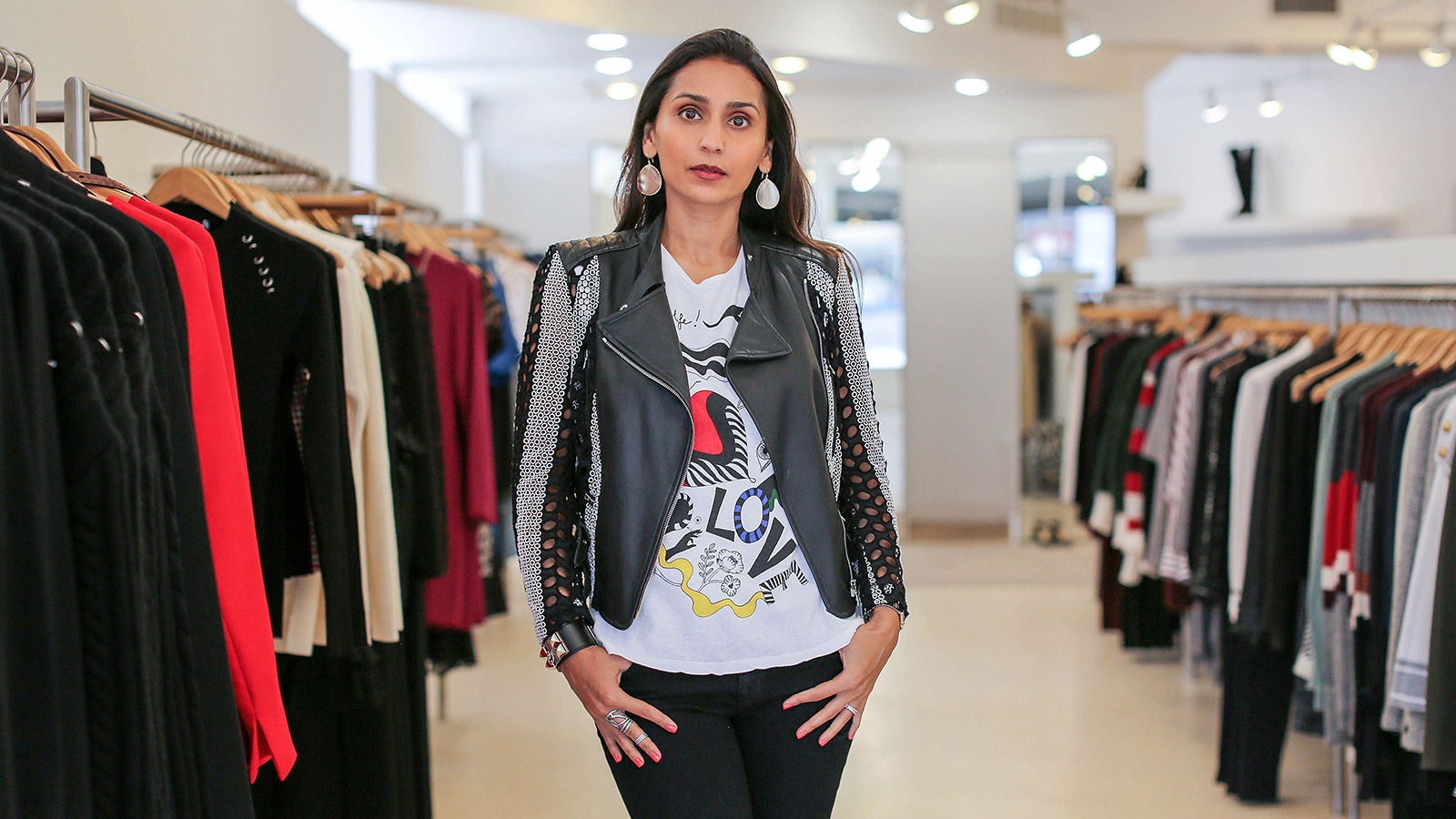 #HipNJ's Lisa Marie Latino welcomes Priya Virmani of Privée by Priya back to the studio – and she did not come empty-handed! She brought mountains of Spring looks from Bloomingdale's Short Hills, to style our talented hosts.
Lisa Marie is a walking pop of color in her ultra-flattering and ultra-flow-y maxi-dress.
Another fun trend right now is the 'power suit'. In this segment, Priya opts for a non-traditional silhouette, with an over-sized blazer and a fun, cropped and belted pant.
Priya says buying sets are always a smart choice because one suit can be worked in so many ways, even as separates. As Priya mentioned, rocking the top of a set with the right pair of denim can elevate an entire look and take you from Casual Friday to Girls Night Out in no time! 'Lazy Dressing' at it's finest!
Speaking of denim, we know it never goes out of style, and yet is always on trend! When shopping for trendy denim, Priya says "Look for the fray!", and pay attention to the little details, like the studded pair she brought us.
Denim and a white tee shirt are one of the simplest combos out there, but, again, Priya has tips on how to elevate each element. The gray-toned jeans with studded detailing, paired with a delicate long-sleeved, puffy t-shirt are so simple and yet really give that feeling of being "put together". Pair this look with a fun colored mule (which are also on trend!) and you'll be the picture of perfection.
Priya Virmani is the founder of Privée by Priya. Styling out of Short Hills, NJ, Priya offers multiple services, all designed to leave you looking and feeling your best.
Priya can help you re-assess all of the beloved pieces already in your closet if you just need guidance on how to wear them. She offers services to help you shop for the cohesive wardrobe of your dreams, including a complete style overhaul, in case you are the embodiment of "I have NOTHING to wear!"
You can find Priya's Privee Style Studio at PriveebyPriya.com or on social media!