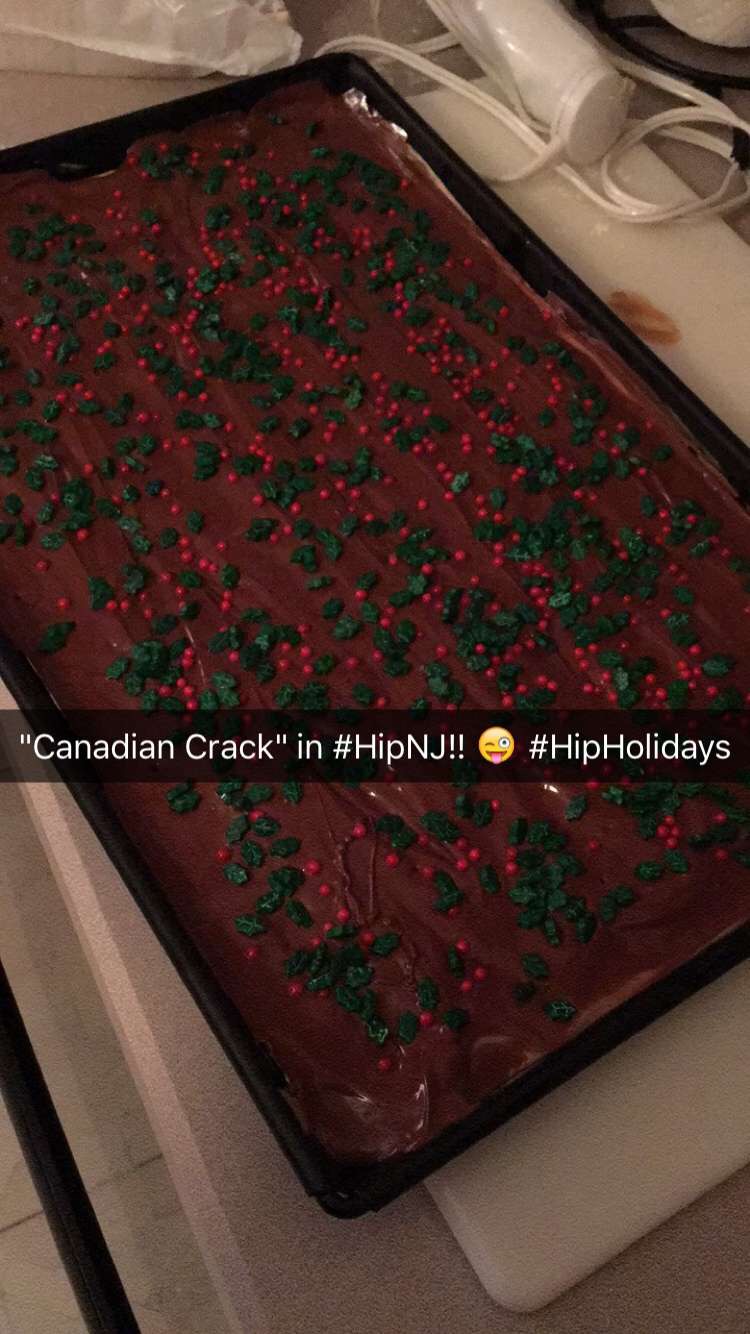 Scrambling to find the perfect Christmas dessert recipes for your holiday gathering?  #HipNJ to the rescue!
Here are three tried and true concoctions that are deliciously easy to bake (or not bake!)
Loaded M&M Oreo Cookie Holiday Bars 
Recipe by: Averie Cooks
These cookie bars taste better than what you are probably imagining!  #HeavenOnEarth
YIELD: 9 to 12 squares
PREP TIME: 5 minutes
COOK TIME: about 20 minutes
TOTAL TIME: 30 minutes
INGREDIENTS:
1/2 cup unsalted butter (1 stick), melted
1 large egg
1 cup light brown sugar, packed
1 tablespoon vanilla extract
1 cup all-purpose flour
18 Oreo cookies, coarsely chopped
1/2 cup M&M's
DIRECTIONS:
1. Preheat oven to 350F. Spray 8-by-8-inch with cooking spray; set aside.
2. In a large, microwave-safe bowl melt the butter, about 1 minute on high power.
3. Add the egg, brown sugar, vanilla, and whisk until smooth.
4. Add the flour and stir until just combined.
5. Stir in the Oreos and M&M's.
6. Turn batter out into prepared pan, smoothing the top lightly with a spatula.
7. Bake for about 20 to 22 minutes, or until done based on add-ins used. Top should be set and edges slightly firm.
8. Allow bars to cool in pan before cutting and serving.
Classic Cinnamon Rugelach Cookies Made Easy!
Recipe by: Community Table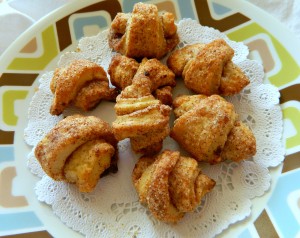 Channel your inner Jewish grandma to make these mouthwatering treats!
YIELD: 64 Cookies
PREP TIME: 2 1/2 Hours
COOK TIME: 20-30 Minutes
TOTAL TIME: Three Hours
INGREDIENTS:
Dough:
8 oz cream cheese at room temperature
½ cup unsalted butter
1 ⅓ cups unbleached all purpose flour
½ cup granulated sugar
1 tsp vanilla extract
¼ tsp salt
Filling:
4 Tbsp unsalted butter, melted
½ cup granulated sugar
2 tsp ground cinnamon
powdered sugar, (optional for decoration)
DIRECTIONS:
1. Preheat oven to 350 degrees
2. Have parchment paper ready on two cookie sheets
3. For the filling, mix together the sugar and cinnamon in a medium bowl and set aside. When you are ready to fill the dough (not before), melt the butter in a small bowl.
Dough:
1. In a large mixing bowl mix the softened cream cheese with the butter at low to medium speed with an electric mixer until combined and creamy. This should take about 2 minutes or so. Add the sugar and salt, mix for another minute. Add the vanilla extract and mix until combined.
2. Gradually add the flour until a very soft dough forms. This will take about 2 minutes.
3. Place in fridge for 2 hours.
4. Take the dough out of the fridge and divide into 4 balls.
5. On a very lightly floured surface roll each ball into 4 circles, about ⅛ inch thick and about 8-9 inches in diameter.
6. For each circle, dip a pastry brush with the melted butter and lightly brush over the circles. Sprinkle the cinnamon sugar mixture over the melted butter.
7. Using a pizza cutter or knife cut each circle into 16 pie pieces.
8. Roll up each piece starting from the wide end. You can turn the ends in if you want them to be more crescent shaped.
9. Repeat above step with every circle. You will have extra cinnamon sugar mixture that has fallen out of the rolled cookies. You can take that and sprinkle over each cookie if you'd like.
10. Bake for 25-30 minutes until golden brown. Place on cooling racks for a few minutes and then remove the parchment paper from the cookie sheet and lay that on the cooling rack.
Chocolate Peanut Butter Saltine Toffee
Recipe by: Pinch of Yum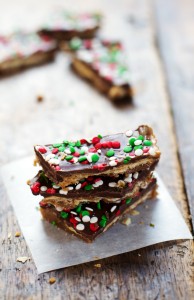 There's a reason why our Canadian friends call this "crack"…it's uber- addicting! There are many incarnations of this no-bake recipe, but this is the one we used.
YIELD: Serves 10
PREP TIME: 5 minutes
COOK TIME: about 20 minutes
TOTAL TIME: 1 1/2 Hours
INGREDIENTS:
1 cup brown sugar
1 cup salted butter
1 sleeve Saltine crackers
¾ cup peanut butter
1½ -2 cups chocolate chips
Christmas sprinkles
DIRECTIONS:
1. Cover a 9×13 baking dish with foil. Spray with nonstick cooking spray or grease with oil. Arrange the saltines in one layer in the pan, leaving a little bit of room between each cracker, and set aside. Preheat the oven to 400 degrees.
2. Melt the butter and brown sugar in a small nonstick saucepan. Bring to a boil and let boil without stirring for three minutes. Pour the hot mixture over the crackers and bake for 5 minutes.
3. Drop the peanut butter onto the hot cracker and toffee mixture; bake for another 1 minute to melt. Spread the peanut butter. Sprinkle with chocolate chips; bake for another 1 minute to melt. Spread the chocolate evenly and top with sprinkles.
4.Freeze or chill for 1 hour or until set. Break into small pieces for serving.