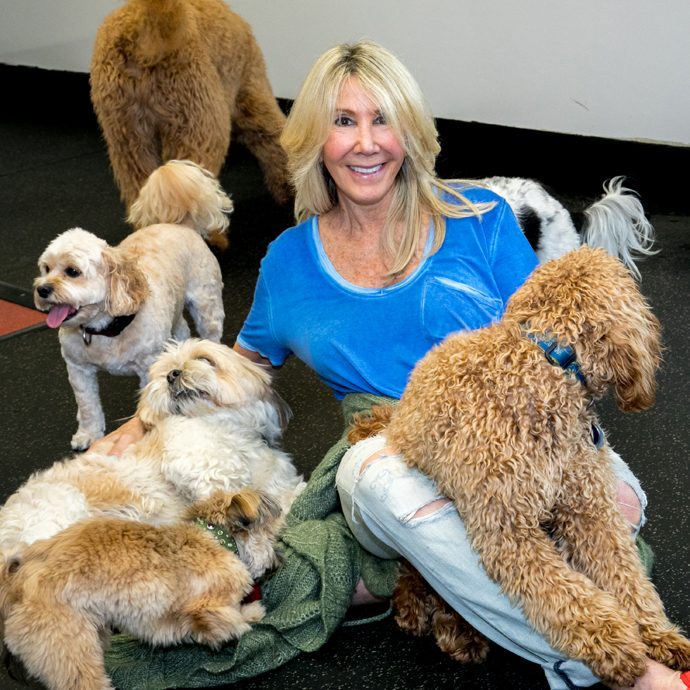 #HipNJ's Lisa Marie Latino sat down with Lori Zimmerman and Marylisa Rapa from Pups @ Play in the #HipNJ studio. They also brought along a very special guest…their adorable dog Boca, for her TV debut!
Over nine years ago, Lori opened the original lavish doggy daycare, Pups @ Play, in Livingston, NJ. She wanted to expand, but running two high end locations would have been too much for one person to handle.
Marylisa was Lori's coffee buddy and also a dog lover extremely interested in Pups @ Play, so it was decided that Marylisa would run the second location in Montclair, NJ. They offer a safe, clean, and vast space for your dog to enjoy.
The well trained and caring staff will tailor playtime especially for your pup based on their interests. Pups @ Play also provides a friendly environment for your dog to socialize with other pups and make new friends. Lori and Marylisa stress the extreme importance of socialization for dogs, just as it is for humans.
Playrooms are based on size and temperament of the dogs, so they are always safe and comfortable. The pups are never confined to a kennel or cage. They store provides grooming, training, daycare and boarding. Boarding can take place for a day, a week, even a month.
If boarded, your dog can enjoy chic themed suites such as Paris, New York City, Miami, San Francisco or Las Vegas. There is always a human companion present for the dogs to be cared for.
You can visit Pups @ Play at their locations in Montclair and Livingston. For more information visit their website or check them out on Facebook, Twitter or Instagram.
For all things Garden State, keep checking out HipNewJersey.com!
Hip New Jersey and Lisa Marie would like to thank and Bloomingdale's Short Hills (wardrobe) for styling Lisa.