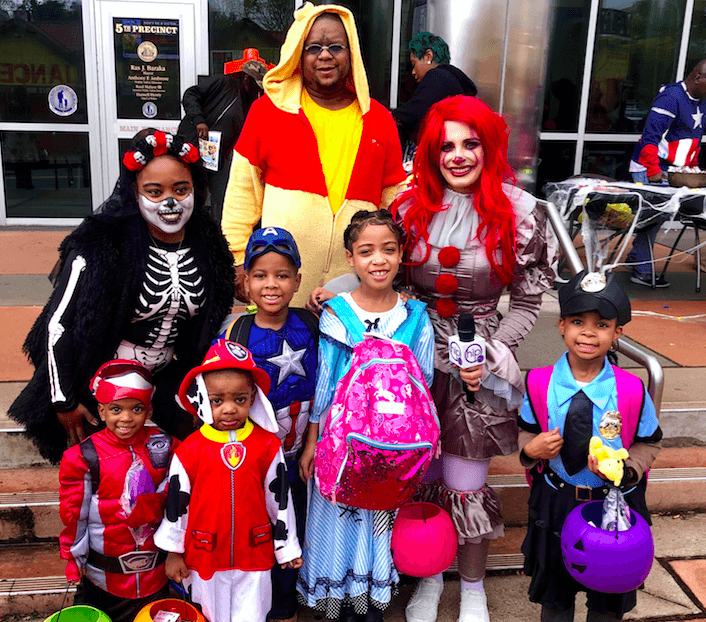 Lisa Marie Latino of #HipNJ visited Newark, NJ to speak with residents and police officers during the 5th Precinct's Halloween activities.
This event included a small haunted house and trunk-or-treating. Children spent time moving from table to table collecting candy. Attendees also participated in a variety of crafts such as drawing, pumpkin painting, etc. Over 300 children came to the event, according to Ashanti Jones, the director of Community Engagement at the South Ward Children's Alliance.
The event allowed children and adults to interact with law enforcement. Officer G. Hines described the event as "a hand-and-hand partnership with the community." And Captain E. Lopez, the commander of the 5th Precinct, described the event as a way of giving back to the community.
"We see them at school, they see us everyday, but actually bringing them here and giving them candy and just enjoying a one-on-one with them. They love it," Lopez said.
Many of the people in attendance enjoyed the event.
"It's super cool because you get to hang out with the police," Taniya, one of the children attending the event, said.
"I love to see the kids happy," Pete, a Newark resident, said. "It's beautiful that the police department can put on an event like this to show the kids that we still care."
"It's definitely cool for the kids, you know, because the kids here to let them have fun and experience new things for Halloween," Albert, a father attending the event with his family, said."I'm having a good time as long as he's [his son's] having a good time."
Newark's other precincts held Halloween events, but Officer M. Muhammad said that they're "nothing like the 5th."
For all things Garden State, keep visiting HipNewJersey.com.