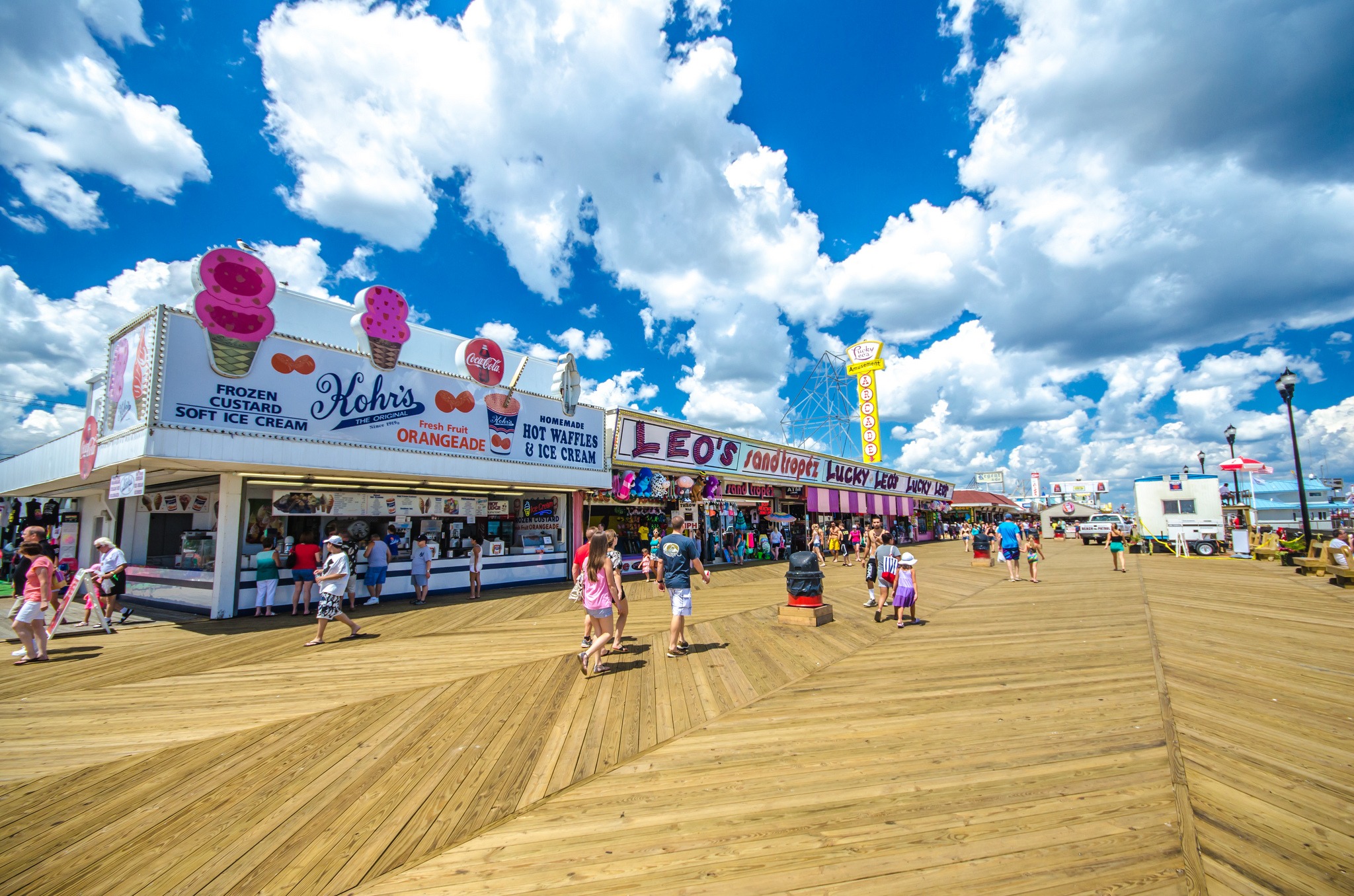 Some of our favorite spots in New Jersey are off the beaten path. #HipNJ is highlighting one amazing city at a time and offering Suzanne LaVoie's picks for best hidden gems, including where to stay, play and grab a bite. As the temperature starts to (slowly) climb, we are shining our spotlight on Seaside Heights!
The Beginning of Your Day
The morning sun is rising above the horizon. The sky is filled with bright hues of pink, orange, and yellow. Along with this visual display of nature, you are treated to the calming sounds of the ocean waves lapping at the sandy beach. You are enjoying this as you sit on the sundeck of the Charlroy Motel, a third-generation family run motel across the street from the Seaside Park beach with complimentary bagels and coffee in your hands. All of your senses are being attended to as you relax and soak it all in.
Fun, Fun, Fun!
As you move on with your day, you are surrounded by activities, attractions, and events in the adjoining town of Seaside Heights that are just calling your name to immerse yourself in to them. Arcades are filled with entertaining games like Skeeball and Pokereno (they test your skills as well). There are numerous shops along the boardwalk which appeal to all ages and interests.
Perhaps you are in the market for a gift for someone and are drawn to the pleasing candy shops, like Van Holten's or Lucky Leo's, where you will find all kinds of delicious treats. Additionally, there are shops which provide access to amazing items that were created from the boardwalk after Superstorm Sandy and help provide continued remembrance of that time in New Jersey history.
Oh, and how about a few rounds of miniature golf, especially on top of a building on the Casino Pier section of the boardwalk? It is so much fun to sit on a bench and people-watch. Families and kids filled with laughter are worth the time to slow down and enjoy.
Let's not forget about the beautiful and exciting Island Beach State park! Miles of engaging beaches and trails along with tons of fun activities including hiking, swimming, surf fishing, and even horseback riding! For a modest fee to enter the park, you have an entire day full of fun right in front of you.
Excellent Eats!
After all of these exciting adventures, you are now ready to sit down and bask in some flavorful food. There are tons of wonderful options to choose from, including Maruca's and the Sawmill for pizza, Park Seafood (for seafood, of course), and Spicy Cantina for Mexican cuisine.
If you are looking for something off the regular boardwalk style eats, then you have a range of choices including Bum Roger's Seafood, Chef Mike's ABG in Seaside Park, and Klee's Bar and Grill in Seaside Heights. You will not go hungry with any of them!
How about those fabulous snacks like an orange and vanilla twist soft serve cone at Kohr's? Or a scrumptious bucket of French Fries from Kupper's? You may even want to give in to the delightful temptation of Fried Oreos!
Night and Beyond
It is time to unwind. The day has been packed, but you allowed yourself some time to sit on a bench and enjoy the sights. Now you are back at the Charlroy on that same sundeck with a beverage and watching the giant Ferris Wheel that lights up every night with its own show. You are wanting to return and planning your next getaway.
Maybe for the Jersey Shore Festival in May? Fourth of July? Or how about the Palm Sunday Easter Egg Hunt along the boardwalk? On Easter Sunday, you can strut your holiday finest along the boardwalk and even win a prize!
The ocean waves are melodic.
The sky is breathtaking with the stars and moon above.
It is all there waiting just for you.
Top Image: Flicker/kjarrett