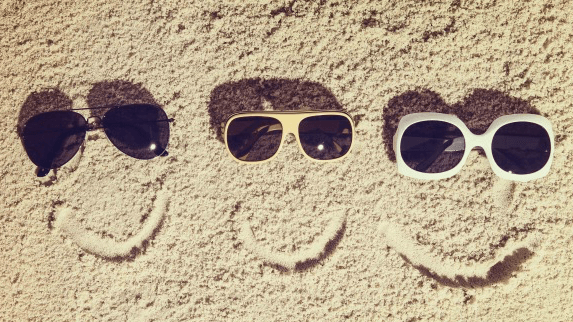 It's national sunglass day and what better way to celebrate than with a brand new pair perfect for you. Sunglasses true purpose is to protect your eyes from the blistering light, yet we buy the expensive pairs to acquire the James Dean cool and fashionable look that makes you feel confident. While designer glasses can look sharp on your friend's face, it can have a different look on yours, as each face is shaped differently.
The first step on how to find the perfect glasses for you is to discover what shape your head is; round, square, oval, heart, diamond, rectangular, or oblong. You can do this by looking in a mirror or examining pictures of yourself.
For a round face stray away from circular frames, they will only highlight your round shape. Instead, gravitate towards square and rectangle shapes like Wayfarers to give your face that thinner, naturally contoured look.
Square face's, dramatic features allow you to wear more options that will look good with your striking features. Circular frames such as round, oval, and cat-eye will help balance and soften your face shape. People with rectangular face shapes will also abide by these tips.
The true winners of the sunglass epidemic are oval faces, almost any sunglasses will look good on your gorgeous face, although rectangular frames are highly recommended. Focus more on your features when choosing your perfect pair, don't choose a pair that is too wide for your face. This also applies to people with oblong face shapes.
Due to their narrowness of chins in heart shapes faces, sunglasses that elongate your face are the best option. Aviators are a perfect option but round frames, oversized square frames, exaggerated bottom frames, and cat-eye will look perfect for your teardrop shape.
A diamond-shaped face is rare, but not worry because most glasses fit perfectly on your unique cheekbones. For a diamond shape, face glasses like cat-eye, rimless, oval, round frames will look the best. Make sure to avoid narrow frames or anything too wide for your features.
Happy National Sunglass day from Hip New Jersey!