Online Training Session, Careers and Knowledge Business
When:
February 27, 2020 @ 8:00 pm
America/New York Timezone
2020-02-27T20:00:00-05:00
2020-02-27T20:15:00-05:00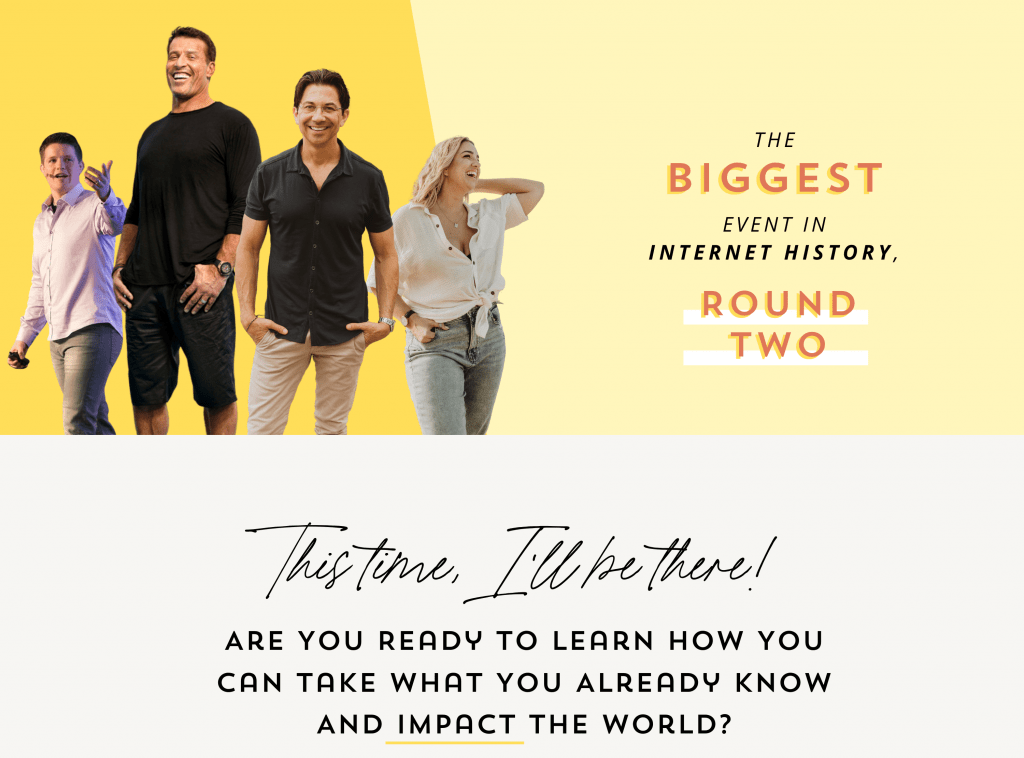 Join a free online training session that focuses on knowledge business.
If you're not quite sure what "knowledge business" means, yet, you will. This is a value to ANYONE who wants to have a career that comes out of who they truly are, rather than being a time-consuming afterthought or a "waiting until retirement" game. Nope, we're living right NOW.
Featuring Beth Nydickme, Dean Graziosi, Tony Robbins and Russell Brunson.
Here's what will happen when you show up:
– No longer learn from the outside-in. You'll learn what goes on behind-the-scenes for successful entrepreneurs, those un-shared strategies that Tony and Dean have used for decades.
– Master Tony and Dean's unique "3 bucket" approach to defy procrastination and doubt, finish what you've started, and see yourself through to your goals' finish line (and far beyond!)
– Learn how to connect your experiences, talents, and gifts to a meaningful, successful career that scales and sustains for long-term purpose and that real impact you've been craving.
– Get a vision for the KBB method, a blueprint tried and tested by over 24,000 people in 150 different countries, that students just like you have used to tap into their full potential, drive real profits, and build a career they actually love.
– The 3 vital steps you need to get in front of one of the fastest-growing industries in the world, the knowledge business, an industry in its infancy that is already bringing in $355 million dollars a day (and Forbes predicts will be up to $1 billion a day in 2025.)