Navigating Hope and Hope One Social and Addictions Services Crossing Morris County Through Jan. 30
When:
January 17, 2020
all-day
America/New York Timezone
2020-01-17T00:00:00-05:00
2020-01-18T00:00:00-05:00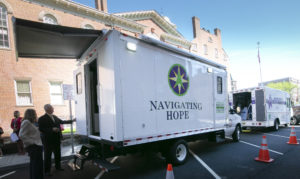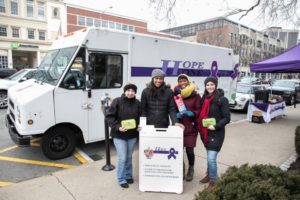 Providing Mobile Social Services and Addictions Mobile Services — 20 Stops Planned at 16 Sites
Morris County's mobile social-services-center-on-wheels, Navigating Hope, and the Sheriff's Hope One addiction services vehicle will be crisscrossing Morris County over the next six weeks, making a combined 19 visits to 15 sites, from the Mendham Township Library to the Morristown Green.
The mobile programs visit supermarkets, libraries, churches, train stations, soup kitchens, shopping malls, and many other locations to reach county residents in need of assistance.
Stops are planned through Jan. 30 at locations in Dover, Mendham Township, Morristown, Randolph, Riverdale and Rockaway Township.
Navigating Hope stops through Jan. 30 include the following (Joint stops with Hope One in bold lettering):
Dec. 26, Trinity Soup Kitchen, 123 East Blackwell St., Dover
Dec. 30, John's Episcopal Church, 11 S. Bergen Street, Dover
Jan. 3, Landlord Tenant Court, Morris County Courthouse, 10 Court St., Morristown
Jan. 6, Walmart, 48 Route 23, Riverdale
Jan. 10, Landlord Tenant Court, Morris County Courthouse, 10 Court St., Morristown
Jan. 16, Mendham Township Library, 2 West Main Street, Mendham Twp.
Jan. 17, Landlord Tenant Court, Morris County Courthouse, 10 Court St., Morristown
Jan. 23, Project Homeless Connect, 70 Maple Ave., Morristown
Jan. 24, Landlord Tenant Court, Morris County Courthouse, 10 Court St., Morristown
Jan. 27, Nourish (Community Soup Kitchen), 36 South St., Morristown
Jan. 30, Trinity Soup Kitchen, 123 East Blackwell St., Dover
Hope One stops through Jan. 30 include the following:
Dec. 26, Trinity Soup Kitchen, 125 E. Blackwell St., Dover
Dec. 31, New Year's Eve on the Morristown Green
Jan 2, Rockaway Townsquare mall (upper level by JC Penny), 301 Mt. Hope Ave, Rockaway Township
Jan. 6, Walmart, 48 Route 23, Riverdale
Jan. 10, Landlord Tenant Court, Morris County Courthouse, 10 Court St., Morristown
Jan. 16, Mendham Township Library, 2 West Main Street, Mendham Twp.
Jan. 21, Randolph Library, 28 Calais Road, Randolph
Jan 23, Project Homeless Connect, 70 Maple Ave, Morristown
Jan. 27, Nourish (Community Soup Kitchen), 36 South St., Morristown
Jan. 30, Trinity Soup Kitchen, 125 E. Blackwell St., Dover