Montclair Film Announces 9th Annual Benefit Event Featuring Stephen Colbert and Julia Louis-Dreyfus
When:
December 7, 2019 @ 8:00 pm – 9:00 pm
America/New York Timezone
2019-12-07T20:00:00-05:00
2019-12-07T21:00:00-05:00
Where:
NJPAC
One Center Street
Newark
NJ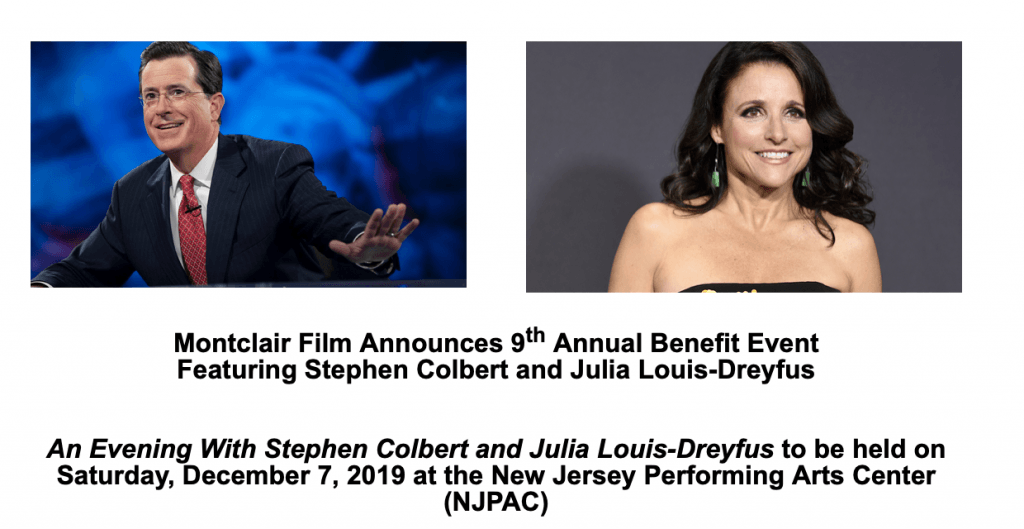 September 13, 2019, Montclair, NJ— Montclair Film, New Jersey's leading film non-profit, today announced that Stephen Colbert, host of CBS' "The Late Show With Stephen Colbert," will host an evening with eleven-time Emmy Award® winner Julia Louis-Dreyfus, on stage at the New Jersey Performing Arts Center (NJPAC) in downtown Newark, NJ on Saturday, December 7, 2019 at 8:00 PM. This event made possible with support from Rao's Homemade®.
Tickets begin at $79.50 and will go on sale Monday, September 16
at 10:00 AM to Montclair Film members. American Express members
will receive pre-sale access on Wednesday, September 18 at 10:00 AM, with public ticket sales beginning on Friday, September 20 at 10:00 AM. Public tickets will be available by telephone at 1-888-GO-NJPAC (1-888-466-5722), at the NJPAC Box Office at One Center Street in downtown Newark, and online at www.njpac.org and ticketmaster.com.
Montclair Film is partnering with Charitybuzz for a special auction for this event. The winner and three guests will enjoy a table for four (4) at the pre-show VIP reception, a backstage meet and greet and photo with Stephen and Julia, box seats for the live event, the opportunity to ask the first question from the stage during the Q+A portion of the show, and VIP tickets for four (4) to attend The Late Night Show with Stephen Colbert to be scheduled at the winner's convenience. For more details and to bid on this extraordinary package, visit http://bit.ly/2019StephenJuliaCharityBuzz
All proceeds from this special evening will benefit Montclair Film, a 501(c)3 non-profit arts organization that hosts the annual Montclair Film Festival (May 1-10, 2020), as well as year-round film education, cinema, and community programs that reach over 43,000 patrons a year.
"From her celebrated work on Seinfeld to her record-setting run on Veep, Julia Louis-Dreyfus is one of the great performers of all time and having her join Stephen Colbert onstage promises to be absolutely brilliant," said Montclair Film Executive Director Tom Hall. "This event is our biggest night of the year and provides our non-profit organization with vital support that allows us to deliver world class film, media literacy, and education programs to our patrons and students. We're are incredibly grateful to Stephen, Julia, and our friends at NJPAC for their generosity in making this event possible. It is going to be an unforgettable evening."
"NJPAC has welcomed Presidents Clinton and Obama to Prudential Hall, and we're thrilled to now add 'President Meyer' to our list of visiting heads of state," said John Schreiber, President and CEO of NJPAC. "All joking aside, Julia Louis-Dreyfus is one of the premier actresses of our era. I can't wait to see what happens when she joins forces with her fellow Second City alum Stephen Colbert! Montclair Film's annual fundraisers with Stephen and his friends have become among the most eagerly anticipated events of the Arts Center's season, and this year's may be the most entertaining yet."
PRESS NOTE
Approved images, full bios, and press materials for this event can be downloaded for use at:
http://bit.ly/AnEveningWithStephenColbertJuliaLouis-Dreyfus2019
ABOUT JULIA LOUIS-DREYFUS
Julia Louis-Dreyfus' comedic versatility and tremendous skill has made her one of Hollywood's most sought-after actors and producers, expertly shaping a career full of memorable roles. Louis-Dreyfus starred in and served as executive producer for HBO's hit series Veep, which wrapped after seven critically-acclaimed seasons. She earned worldwide acclaim for her portrayal of Elaine Benes in the hit NBC series Seinfeld, and as Christine Campbell in the CBS hit comedy The New Adventures of Old Christine.
Between all shows combined, Louis-Dreyfus has received eleven Emmys with twenty-six nominations. In 2017, she broke records for the most Emmys won by a single performer, as well as the most consecutive wins for a single role through her performance in Veep. This career highlight marked her eighth total acting win, tying Cloris Leachman's record. Most recently, The Kennedy Center awarded Louis-Dreyfus with the Mark Twain Prize for American Humor in November, 2018. She has received a Golden Globe, a Television Critics Association award, a Peabody Award and the Charlie Chaplin Britannia Award for Excellence in Comedy. Furthermore, Louis-Dreyfus has won nine Screen Actors Guild awards, making her the most decorated actor in SAG history. In 2010, Louis-Dreyfus received her star on the Hollywood Walk of Fame and was welcomed into the Television Academy Hall of Fame in 2014. Additionally, in 2016, she was named one of the 100 most influential people in the world on Time Magazine's annual Time 100 list.
Most recently, Louis-Dreyfus wrapped production on Fox Searchlight's Downhill, where she stars alongside Will Ferrell. The comedy drama, for which she also served as a producer, is directed by Jim Rash and Nat Faxon, and is a remake of the 2014 Swedish film Force Majeure. She will next be seen in Disney's Onward opposite Chris Pratt, Tom Holland and Octavia Spencer which is set to release March 6, 2020.
Louis-Dreyfus received critical acclaim in 2013 for her leading role in Fox Searchlight's Enough Said, written and directed by Nicole Holofcener and also starring the late James Gandolfini, Catherine Keener and Toni Collette. She earned a Golden Globe nomination for her powerful performance, making her one of the few actors to be nominated for a film and television role in the same year. Additional film credits include Disney's Planes, Pixar's animated hit A Bug's Life, Woody Allen's award-winning Hannah and Her Sisters, Allen's Deconstructing Harry, Rob Reiner's North, as well as Ivan Reitman's Fathers' Day and Jack the Bear.
Her television credits include multiple appearances on Curb Your Enthusiasm, as well as recurring roles on The Simpsons and Arrested Development, among many others. She first made her mark on television during a three-year stint (1982-1985) on Saturday Night Live, opposite the likes of Billy Crystal, Christopher Guest and Eddie Murphy. She subsequently hosted the show twice, becoming the first female former cast member to return as host.
As a steadfast defender of the environment, Louis-Dreyfus serves on the leadership council for the Directors for the Natural Resource Defense Council (NRDC), Heal the Bay, The William Louis-Dreyfus Foundation and the Honorary Board of Heal the Ocean. In September 2017, she announced her support to make universal healthcare a reality and has continuously been a strong advocate ever since.
Louis-Dreyfus studied theater at Northwestern University where she was a member of The Practical Theater Company, and Chicago's famed Second-City comedy troupe. She currently resides in Los Angeles with her husband, Brad Hall, and their two sons, Charlie and Henry.
ABOUT STEPHEN COLBERT
Emmy and Peabody Award-winning host Stephen Colbert took over as host of CBS's THE LATE SHOW on September 8, 2015. Best known for his Comedy Central show, "The Colbert Report," Colbert is also a best-selling author and accomplished actor, writer, producer and comedian. For the second year in a row, THE LATE SHOW has earned Emmy Nominations for Outstanding Variety Talk Series, Outstanding Writing for a Variety Series and Outstanding Directing for a Variety Series. In 2017, Colbert hosted the Emmy ceremony and also received three nominations for the live election night special which aired on SHOWTIME.
From its debut, "The Colbert Report" was a critical and cultural success, winning two Peabody Awards and earning 37 Emmy Award nominations. The series won the Emmy for Outstanding Writing for a Variety, Music or Comedy Program in 2008, 2010, 2013 and 2014. Prior to hosting "The Colbert Report," Colbert spent eight years as the longest-tenured correspondent on "The Daily Show with Jon Stewart." THE LATE SHOW has carried on this success, earning a nomination for a 2016 Writers Guild Award for Outstanding Comedy/Variety Talk Series.
Colbert began his career in television after graduating from Northwestern University and joining Chicago's famed Second City improv troupe. It was there he met Amy Sedaris and Paul Dinello, with whom he created and starred in the half-hour sketch comedy series "Exit 57." The trio went on to create the live-action narrative series and cult hit "Strangers with Candy."
Also, Colbert was a cast member and writer for the variety series "The Dana Carvey Show" and a writer for "Saturday Night Live." His television acting credits include guest roles on "The Mindy Project," "House of Cards," "The Office," "Curb Your Enthusiasm" and "Law and Order: Criminal Intent." Colbert is the Executive Producer of OUR CARTOON PRESIDENT, the half-hour animated series centered on the Trump White House, which premiered February 11th, 2018.
A celebrated author, Colbert contributed to "America (The Book): A Citizen's Guide to Democracy Inaction," which topped "The New York Times" Bestseller List for 15 consecutive weeks. His first solo book, "I Am America (And So Can You!)," spent 29 weeks on "The New York Times" Bestseller List in 2007, debuting and occupying the #1 spot for 13 weeks. His second book, "America Again: Re-Becoming The Greatness We Never Weren't," released in October 2012, spent 17 consecutive weeks on "The New York Times" Bestseller List and earned him a Grammy Award in 2014 in the category of Best Spoken Word Album for the audiobook. In May 2012, Colbert released his first children's book, "I Am A Pole (And So Can You!)." Also, he co-authored the critically acclaimed book "Wigfield." In September 2017, Simon & Schuster (a division of CBS Corporation) released "Stephen Colbert's Midnight Confessions," a book and audio edition based on Colbert's popular "Midnight Confessions" segment on THE LATE SHOW.
In 2010, Colbert received three Emmy Award nominations and won a Grammy Award for Best Comedy Album for "A Colbert Christmas: The Greatest Gift of All!," the album from his one-hour musical holiday special on "The Colbert Report." In 2011, Colbert starred as Harry in the New York Philharmonic's presentation of Stephen Sondheim's "Company." More than an entertainer, Colbert has drawn on his comedic talents to impact culture in extraordinary ways over the past decade. In 2011, he was granted permission by the Federal Election Committee to organize his own Political Action Committee, "Americans for a Better Tomorrow, Tomorrow." In 2009, "The Colbert Report" traveled to Iraq on a USO Tour titled "Operation Iraqi Stephen: Going Commando" to tape and perform shows in front of the troops, becoming the first television show in USO history to produce a full week of shows in a combat zone. In 2007, he launched a brief presidential bid but withdrew after being denied a place on the ballot of the South Carolina Democratic Party. The success of "The Colbert Report" has allowed Colbert to lend his name to things such as a Ben & Jerry's ice cream flavor, Americone Dream; a Virgin America jet, Air Colbert; and a NASA treadmill called the Combined Operational Load Bearing External Resistance Treadmill (C.O.L.B.E.R.T.). Colbert Nation sponsored the U.S. Speed Skating team for the 2010 Olympics.
Raised in South Carolina, Colbert currently lives in New Jersey with his wife and three children. His birthday is May 13. Follow him on Twitter @StephenAtHome.
ABOUT MONTCLAIR FILM
Montclair Film is a non-profit, tax-exempt 501(c)(3) organization that engages, entertains, and educates through the power of visual storytelling. The ninth annual Montclair Film Festival will take place from May 1-10, 2020. Montclair Film's year-round and festival programming is made possible through generous support from Investors Bank; Audible; Hackensack Meridian Health, Mountainside Medical Center; the Horizon Foundation for New Jersey; The Bravitas Group; Ashenfelter, Slous, Trembulak, McDonough, Golia & Trevenen, LLP; Chubb; Coldwell Banker Residential Brokerage; William H. Connolly & Co.; The Nature Conservancy, and RBC Wealth Management. Our programs are made possible by funds from the New Jersey Department of State, Division of Travel and Tourism, as well as the New Jersey State Council on the Arts, a partner agency of the National Endowment for the Arts. For more information about Montclair Film, visit www.montclairfilm.org
Join Montclair Film Online:
Website: http://montclairfilm.org
Twitter: @MontclairFilm
Facebook: facebook.com/MontclairFilm
Instagram: instagram.com /MontclairFilm
YouTube: youtube.com/montclairfilmfest
ABOUT NJPAC
New Jersey Performing Arts Center (NJPAC), located in downtown Newark, N.J., is America's most diverse performing arts center, and the artistic, cultural, educational and civic center of New Jersey – where great performances and events enhance and transform lives every day. NJPAC brings diverse communities together, providing access to all and showcasing the state's and the world's best artists while acting as a leading catalyst in the revitalization of its home city. Through its extensive Arts Education programs, NJPAC is shaping the next generation of artists and arts enthusiasts. NJPAC has attracted nearly 10 million visitors (including over 1.7 million children) since opening its doors in 1997, and nurtures meaningful and lasting relationships with each of its constituents.
Get Social! Follow NJPAC Online:
Website: njpac.org
Twitter: @NJPAC
Hashtag: #NJPAC
Facebook: NJPAC
YouTube: NJPACtv
ABOUT RAO'S HOMEMADE
Rao's Homemade, established in 1992 in New York City, is the leading brand of super premium pasta sauce, offering quality, full flavored sauces, bronze-cut died pastas, slow-simmered soups and more. Rao's Homemade products are made using quality ingredients, like naturally sweet Italian tomatoes and house-milled semolina flour. Acquired in 2017 by Sovos Brands, a new kind of food and beverage company with a mission to acquire and build one-of-a-kind brands, Rao's Homemade continues to deliver deliciously crafted products, rooted in Italian heritage dating back to 1896. Find out more about Sovos Brands at www.sovosbrands.com and Rao's Homemade at www.raos.com.
For more information, please contact
FRANK PR:
Phone: 646-861-0843
Lina Plath Clare Anne Darragh
lina@frankpublicity.com clareanne@frankpublicity.com