Fourth of July Fireworks Are Still Happening: For Multiple Towns!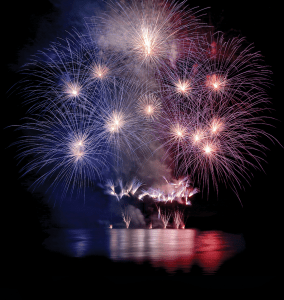 With the lifting of COVID-19 restrictions, NJ cities and towns are gearing up to celebrate the Fourth of July with classic fireworks displays, modified to meet social distancing guidelines.
Unfortunately, lots of towns have had to cancel their displays but hope to reschedule them for later in the year—with many looking to hold fireworks during Labor Day Weekend.
Here's a list of fireworks shows that can be seen in NJ on and around the Fourth of July. Make sure you check before you head out, many towns (like Wildwood and Bridgewater) are canceling their planned events.
*Note events with an asterisk are still listed on individual towns' calendars but have not confirmed any information regarding COVID-19 guidelines.
July 2
Aberdeen*
A fireworks display will take place at 9 pm at Veterans Memorial Park.
Mount Arlington
The Lake Hopatcong Yacht Club annual fireworks display is scheduled to take place with a rain date of August 21. Time is TBA.
July 3
Bradley Beach
Fireworks will be held at 9 pm on the beachfront. There's a rain date of July 5 at 9 pm.
Cedar Grove
Fireworks will be launched from Panther Park at 8:30 pm. Gates will open at 7 pm and 500 people will be allowed onto the multipurpose field and surrounding grass area. The fireworks will also be streamed on the Cedar Grove Recreation Facebook page.
New Providence*
The New Providence Independence Day Celebration will start at 7 pm and include a DJ, chalk art and other activities. Fireworks will start at 9:30 pm. Rain date is July 5. Make sure to check the webpage for COVID-19 updates as the event gets closer.
Ocean Twp.*
Fireworks will be held at dark at Joe Palaia Park.
July 4
Hammonton*
Fireworks are scheduled to take place at Hammonton High School at dusk.
Middle Twp.
Fireworks will be held at dusk at the Clarence Davies Sports Complex. They'll also be streamed on the Middle Township Facebook page.
Mountainside*
Fireworks are planned to take place at Our Lady of Lourdes Park at dusk.
North Wildwood* CANCELED
THIS EVENT HAS BEEN CANCELED DUE TO CROWDING CONCERNS. The Fourth of July Fireworks Spectacular was scheduled to Pine Street Beach.
Nutley*
The Nutley Fourth of July Celebration begins at 6:30 pm and fireworks are set to take place at dusk at Park Oval.
Ocean City*
The Ocean City Fourth of July Celebration will kick off at 7 pm and conclude at 9 pm with fireworks. The event will take place on the beach next to the Music Pier.
Sea Isle*
Fireworks will be launched at 9 pm from a barge near the 50th Street Beach.
Washington
Fireworks will take place at 10 pm near Paradise Island between Rte. 33 and 366. Visit the Washington Twp. Police Department Facebook page for more information.
July 11
Buena Vista*
The 32nd annual Independence Day Festival, including a parade and fireworks, is scheduled with a rain date of July 18. Time is TBA.