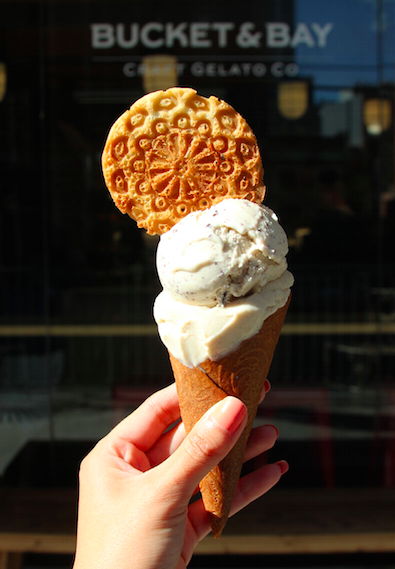 #HipNJ's Cara Di Falco headed over to Jersey City to pay Bucket & Bay Craft Gelato a visit!
Bucket & Bay is a gelateria located on Bay Street known for its unique gelato.  Gelato, of course, is an Italian style of low-fat ice cream that is characterized by its more dense texture in comparison to other styles of ice cream.
Cara sat down with Jen Kavlakov, the owner and chief of the café, to talk about what goes on behind the scenes. Along with her husband, Boris, she opened up Bucket & Bay because it had long been a dream of theirs and they wanted to make their kids proud of them for following that dream.
Perhaps the most pivotal ingredient that contributes to their healthier (and tastier) gelato is the 100 percent grass fed milk. This type of milk has more nutrients than standard milk whereas cows that produce the milk produce it in small amounts.
What also sets Bucket & Bay apart from other gelaterias in New Jersey is that rather from starting from a premade base and adding flavor from there like others do, Jen and the rest of her crew start completely from scratch.
The café also only uses local ingredients acquired from a purveyor. One drawback is that they only use seasonal ingredients, so you won't be able to get anything with strawberries in the dead of winter. But they work around this. Family is very important to Jen and Boris and the duo would never put an item on the menu that they wouldn't serve to their loved ones.
Jen obviously was not going to let Cara leave without a sample! Cara was lucky enough to try one of the cafes classic items, a pressed gelato sandwich. Served on toasted babka, a type of croissant roll, this sandwich includes gelato and a house-made jam. Her sample was a classic combination of Bucket & Bay vanilla gelato and strawberry rhubarb jam.
Jen and Boris also strive to be active community participants beyond desert by selling their top-notch ingredients through a buyers club deal called Bucket Share. Membership is not required in order to purchase the ingredients, but a discount is offered. Rather than a come-and-go atmosphere, the café also features community space and visitors are encouraged to sit back and enjoy the gelato.
To learn more about Bucket & Bay Craft Gelato, go to BucketAndBay.com.