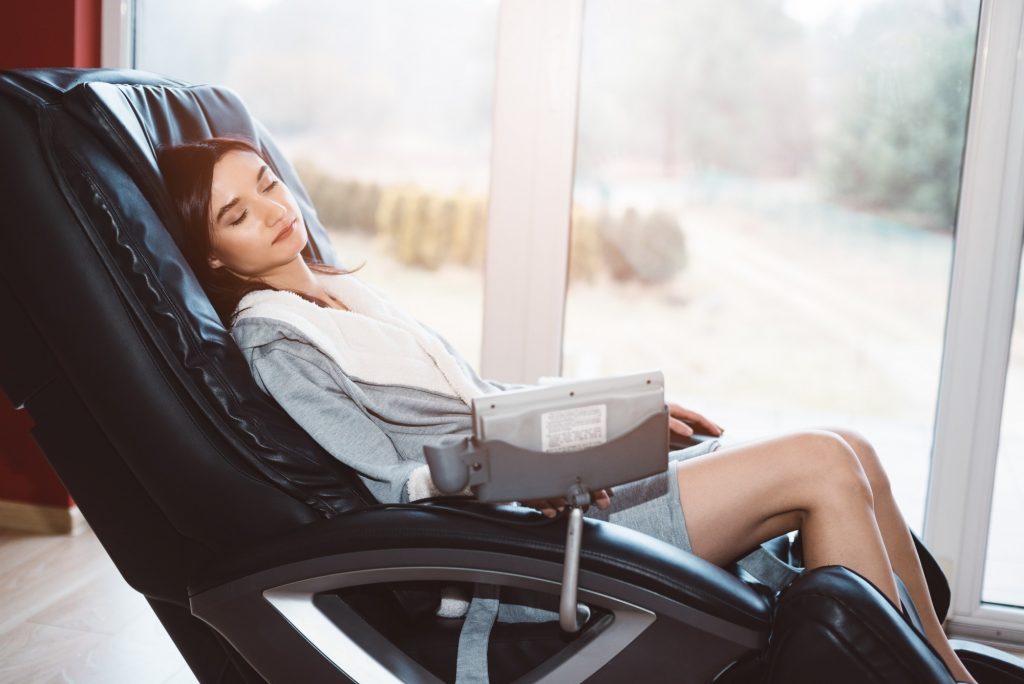 Whenever you go to the mall or the spa, a massage chair is one of the more enjoyable furniture options. These chairs can help give you that relaxation time and loosen up your entire body.
Among the different massage therapy styles, using massage chairs is quick and easy. If you enjoy it enough, it's best to bring its benefits at home. It's going to be an investment, but a massage chair is worth it.
Do you think you need it? The answer is a resounding yes.
In this guide, we'll give you 7 reasons why you need to invest in a chair massage device for your home.
1. Massage Can Induce Relaxation
When you think of massage, your mind goes straight to relaxation. All types of massage styles work towards trying to reduce your stress levels. By loosening your muscle fibers and adding warmth to them, you can start feeling your stress go away.
How does this work?
Research shows that massage relieves tension in the muscles. By reducing nerve compression in your different muscle groups, massage can help them work better.
These nerves can then work better in sending electrical signals to your brain. This gives you a relaxing feeling that eases your depression and anxiety.
Massage chairs simulate all this muscle mechanics that hands can do. As they happen on a simultaneous level on a consistent pressure, a massage chair works. If you're looking for the best one for you, check this massage chair collection.
2. Improves Circulation and Blood Flow
One of the best benefits of massage is it improves the circulation and blood flow in your body. By manipulating the muscles and putting pressure on them, you improve muscle oxygenation. You help your muscles get more nutrition in areas where you can experience muscle tightening.
Massages also help improve the lymphatic circulation in your body. By increasing your lymphatic circulation, it helps relieve the different parts of your body from toxins. Your lymph nodes transport lymph, containing white blood cells, benefiting from a better immune system.
Having massage chairs gives you better access to a massage any time, anywhere. All you need is to plug it in, sit down, and get a nice chair massage with different settings.
3. Helps Reduce Pain
The body is a smart but inefficient machine. When your body goes on to exert too much effort, it communicates pain through chemical signals. Your muscles will go stiff and sore as your body tries to tell you to stop and rest.
If you try to continue, your body will start breaking down and push more chemical signals for pain. Massage chairs do the reverse of all this. By taking a break with a nice hour long massage, it's a luxurious way to relax at home.
For those with muscle fatigue, a massage can stimulate your muscles and reduce pain. Massages can remove the pain chemicals in your sore muscles. Since you improve your circulation with a mechanical massage, you release fatigue faster.
4. Cut Down on Chronic Back and Torso Pain
Massage chairs have one of the best track records in helping reduce back and torso pain. Many people tend to sit all day, which can be detrimental to your health. Studies show that massage can boost your serotonin and cut cortisol, which reduces potential pain.
Most if not all massage chairs have the ability to reduce chronic back pain. There are special massage chairs that use specific massage programs. By combining this with a powerful heating action, it can help dissipate pain response.
This type of pain reduction is great for older people who have chronic pain. By getting a massage from a chair, they can enjoy a pain-reducing program. All they need to do is sit down and relax to get their pains away.
5. Helps Reduce Risk of Hypertension
Hypertension is a common problem that comes from the heart working harder. If you have strong blood vessel resistance, the heart needs to go double time. Almost 50 percent of all adults in America have high BP and can be a big cardiovascular risk.
Research on the correlation between massage and changes and blood pressure have their limitations. Even so, adding consistent massages into your routine can help cut down on your stress levels. By cutting down on the stress hormones in your body, this can also reduce your risk of hypertension.
Studies show that massage as a supplementary process helps anti-hypertensive medication. It can help it become more effective than taking the drug by itself, which can help long-term. Massage can also help regulate ambulatory blood pressure and improve sleep quality.
Massage chairs, with a few minutes of your free time, can cut down your hypertension risk further.
6. Resets Proper Posture
Stationary positions like sitting or standing for too long can strain your muscles. This forces you to default to a bad posture, cut down on your balance, and increases your fatigue. By using full-body massage chairs, you cut down on the strain on your body.
By reducing your physical strain, you can go back to your natural and better body posture. A painless body can push you to be more mobile and responsive to your actions.
7. Works As A Multi-function Furniture
Apart from its health benefits, massage chairs have different purposes. When disconnected, you can use this chair as a regular chair. It sounds basic, but having a chair with these ergonomics can help you rest.
It can also work for you as a good way to show visitor hospitality. If you want your guests to have a good, relaxing time with you, massage chairs can help.
Invest In A Massage Chair Today
If you're looking into investing in a massage chair, it's best to know the benefits you can get.
There are many health benefits to using massage chairs, which can be great for you. For those looking for their next chair massage, consider getting one at home and reap its great benefits.
Looking for more health and wellness tips for yourself? Check out our different guides that give you the best picks to keep you healthy and strong.